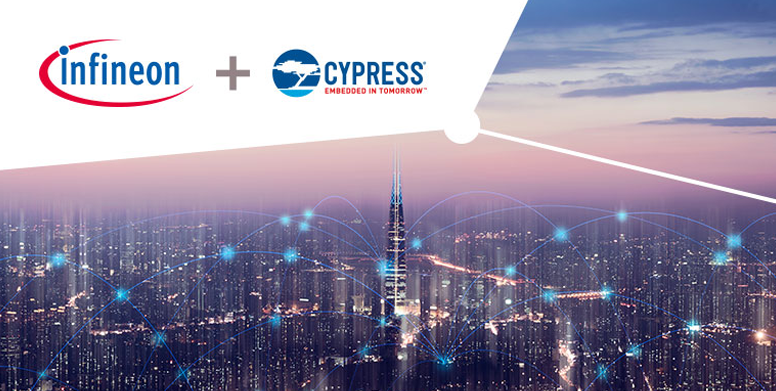 Infineon Technologies Acquires Cypress Semiconductor Corp.
As of April 16th, Infineon Technologies has completed the acquisition of Cypress Semiconductor Corporation for $9.79 Billion.
"Together, we offer our customers the industry's most comprehensive portfolio for linking the real with the digital world and shaping digitalization, one of the most important global trends. We serve as a trusted partner for customers and distributors and we are evolving from a leader in components to a leader in system solutions for the automotive, industrial and IoT markets. Furthermore, customers can benefit from our increased global reach and enhanced design-in support tailored to their needs. We welcome our new colleagues from Cypress to Infineon".

- Infineon CEO Reinhard Ploss
Infineon announced the acquisition on June 3rd, 2019, after the initial signing of the agreement between the companies. Infineon, already a top manufacturer for semiconductors, the merger has moved the company to become the number 1 supplier in the automotive industry. The Cypress Corporation acquisition will provide Infineon its large portfolio of microcontrollers, connectivity components, software ecosystems, high-performance memories, and strong R&D capabilities. Cypress' foothold in the U.S. and Japan will strengthen Infineon's global presence.
These merges often times lead to product discontinuations and consolidations, that could affect the supply chain. Being an expert in the automotive industry, Chip 1 can help overcome those challenges with a lot of automotive grade components in stock, and FD offering that caters seamlessly to that segment of our industry.

What does it mean for you?
When two industry giants merge, it can be concerning. Will there be a disruption in supply as facilities and resources are consolidated? Will the products I use be discontinued? Will the absence of competition mean higher costs?

At Chip 1 Exchange, we have seen hundreds of mergers and acquisitions since we began in 2001. It is sometimes said that the only thing constant is change. And helping customers through change is what we do.

Our first line of support is our huge inventory. With warehouses in Germany, the United States (and Asia?), there is a good chance the Cypress or Infineon parts you need are in stock.

If we don't have it, our global network of trusted suppliers is our next stop. With exclusive access to component suppliers around the world, we can help assure an adequate supply at a reasonable price. If the life cycle of a critical component is in doubt, we can stock ahead for you and ship on a schedule that meets your production.

And of course, if you need to design around a component or find an alternate, our experts can discuss a solution from one of our over one hundred franchised component manufacturers. From passives, electromechanical and simple semiconductors to MIL-STD devices, memory and microcontrollers, we can help you find a way to keep your supply chain intact.

Please let us know how Chip 1 can best support you.
YOU MIGHT ALSO LIKE Fuse
January 15, 2019 Regulators
January 15, 2019 Sensors
January 14, 2019