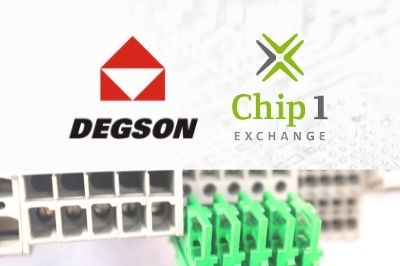 Terminal Blocks Solutions with DEGSON Electronics
Using terminal blocks to connect two or more wires is easy, cost-efficient, and saves you a lot of space. It is also one of the safest ways to connect two or more wires by isolating, grounding, and providing a protective layer for your components in electric circuits.
Degson Electronics is a Chip 1 Exchange partner in providing safe and reliable terminal blocks for our customers. Degson's products are used in over a hundred countries across the globe. They are an industry-leading manufacturer that provides high-quality products and top-notch customer service.
Below is a list of Degson items with their possible crosses.
Terminal Block
Plug-in Type Terminal is available in a selection of 3.5/3.81/5.08mm Pitch with wiring capacity of 1.5mm2 and 5.0/5.08/7.5/7.62mm Pitch with wiring capacity of 2.5mm2. PCB Terminal Spring Type is 2.5-20.0mm Pitch and crosses to brands like Phoenix, Wago, and Weidmuller.
Spring (Non-Screw) Type Cross Reference Table
PITCH

2.5mm – 20mm

DG245-5.0

ZFKDS 1.5C-5.0

236-402

LMZF 5.0X/135

DG245H2-5.08

ZFKKDS 2.5-5.08

736-302

LM2NZF 5.08

DG245H3-5.08

ZFK3DS 1.5-5.08

737-302

LM3RZF 5.08
Plug-in Type terminal Cross Reference Table
PITCH

3.5/3.81/5.08mm, wiring capacity 1.5mm2

15EDGK-3.5

MC 1.5/...-ST-3.5

BL 3.5/180

15EDGK-3.81

MC 1.5/...-ST-3.81

BL 3.81/180

15EDGKM-3.5

MC 1.5/...-STF-3.5

BL 3.5/180F

5.0/5.08/7.5/7.62mm,Wiring capacity 2.5mm2

2EDGK-5.0

MSTB 2.5/...-ST

BLZ 5.00/180

2EDGK-5.08

MSTB 2.5/...-ST-5.08

BLZ 5.08/180
Terminal block variations:
Pluggable

PCB, Barrier

Through-Wall

Transformer

Feedthrough terminal block
Best used for:
Industrial Automation

Electric Energy

Wind Power Generation

Rail Traffic
YOU MIGHT ALSO LIKE Fuse
January 15, 2019 Regulators
January 15, 2019 Sensors
January 14, 2019